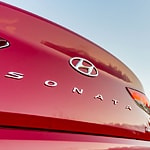 The new Sonata from Hyundai has the performance features that contribute to its popularity as a midsize car today. These features are designed to maximize convenience and also enhance safety and power while you drive.
It has a 2.0-liter engine that puts it ahead of some of its competition. This engine size is sufficient to make it well-suited for driving on the open highway as well as packed city roads. You can accelerate, decelerate and maintain cruising speeds without compromising your fuel efficiency.
The new Sonata also has built-in technology that let you keep track of your car's performance. It has an instrument panel that lets you know how far you travel for each trip and also displays the external temperature. The panel is brightly lit and easy to see. These features complement the technology that comes standard with the Sonata. You get built-in Apple CarPlay and Android Auto with it.