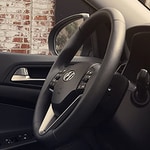 Once you learn about all of its features, you'll see why the Hyundai Tucson has become such a popular SUV. At Gates Hyundai, we carry six trims of this model, all of which are offered for competitive prices.
Many of the advantages associated with the Tucson are related to technology. Advanced driver-assist systems will give you peace of mind and keep you safer on the roads. Your Tucson will be able to help you stay centered in your lane and avoid frontal collisions, and more capabilities are included on the higher trims.
If having a comprehensive infotainment system is a key priority, you'll be happy with the standard smartphone compatibility in the Tucson. Most models have a seven-inch touchscreen, with the highest trim having an eight-inch touchscreen and navigation. Let us know if you'd like to take one for a test drive.